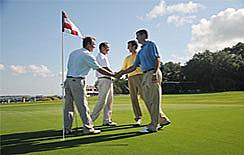 At Nazeing Golf Club we respect the traditional view of having a dress code, but with a modern twist.
When on the Golf Course permitted dress code is as follows:
Trousers and Shorts are acceptable, however, Denim Jeans, Tracksuits, Sport Shorts, Swimming Shorts or Cut- Downs are not permitted.
Golf Shirts must have collars (Turtle necks and other golf branded shirts of a similar nature are also acceptable) Football, Rugby or shirts with indescreet slogons or logos are not permitted. Shirts should be worn inside Trousers or Shorts.
Golf Shoes (Soft Spike Preferred) must be worn. Any other footwear that is not a recognised golf shoe is not permitted.
Golf Caps may only be worn with the peak at the front. All headwear must be removed before entering the clubhouse.
When in the Clubhouse a good standard of Smart Casual dress must be worn. Permitted dress code is as follows:
Modern Casual Shoes are permitted including Smart Trainers, Sandals, Loafers and Deck Shoes. Men are also required to wear socks, however this is not compulsory when wearing sandals. Flip Flops are not permitted.
Smart Shirts designed to be worn outside Trousers, Shorts or Skirts are permitted.
All Clothing, including Denim must be clean and not faded, torn or soiled.
Waterproofs and appropriate golf shoes may be worn in the 'Spike Bar' but not in the main lounge.