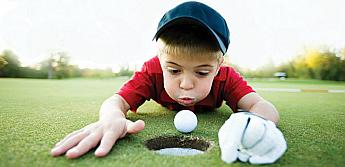 Danny Harwood is one of our PGA Professionals and our focus is on developing our Junior Academy to help each child reach their full potential and become a member of our golf club. Danny runs the Academy Lessons on a Saturday from 10am- 11am, Sundays from 11:30am- 12:30pm and on a one-to-one basis too. Please contact Danny for more information on 01992 893798 or danny@nazeinggolfclub.co.uk
Each week covers different aspects of the game and a Player of the week trophy is awarded to show their hard work and improvement. Group lessons are £7 per Junior for each session and Junior membership is available from the ages of 4-18 years old, please see our membership page for more details.
Danny Harwood, one of our PGA Professionals' is running junior summer camps throughout the year, so make sure you get in contact and don't miss out! For more information or contact us via danny@nazeinggolfclub.co.uk / 01992 893798
During academy lessons, the juniors will have covered many aspects of the golf game including basic fundamentals e.g. grip, stance, posture, alignment for all shots. The juniors will have also covered putting, chipping, pitching, bunker play, irons and woods.
Throughout the course of the year, we have seen some our Juniors participate in our Golf Camps run by one of our PGA Professionals' Danny Harwood and it was great to see the next generation of golfers taking part in such a fun activity and becoming involved within the golf club.